Ministery of Food
We live in a fascinating 'food age'. There are huge developments in terms of new foods: Innovations in how we have food delivered to us as well as cultural factors have an incredibly large impact on our food industry. We're on the eve of a crucial turning point. How far will these developments ultimately go, and who's leading this change?
We need to deal with falling reserves of raw materials, more waste, an ageing population, population growth, and changing food requirements. All this is forcing the food industry to modernise. It's time for a new generation of ingredients, processes and new brands that can take on this challenge. Perhaps the food that we know today will disappear altogether? These radical changes require courage from the food industry. It's a huge challenge!
The main food innovations are currently coming out of Silicon Valley – such as roof boxes in which fish are bred whose poop is used to grow lettuce – or small, local start-ups – such as Impossible Foods, who produce Super Juicer, the vegan hamburgers. These ground-breaking developments underline the growing potential to evolve the future of our food and, more importantly, ultimately improve our health and set up more sustainable production methods.
An extremely progressive attitude is required for this evolution, to create radical changes. But why is this problem apparently only being picked up by Silicon Valley and small start-ups? Why aren't well-known brands with plentiful financial resources, rich histories and expertise leading this innovation?
What if existing large brands were to enrich themselves with new technologies to make their services, products, production and transport more efficient? And what if they involved the consumer in these innovations? And worked with smaller circles just like start-ups? Wouldn't these innovations then happen even faster?
And doesn't the consumer have a big role to play in this evolution? What would happen if existing brands were to set up a 'cooperation' with consumers, joining forces, so the evolution could take place?
If we really want to make innovative products, which taste good and satisfy our wishes, we all need to adopt a new mindset. We need to cross borders and engage in new, unnatural collaborations.
We see huge importance in making the existing food industry transparent and increasing consumer awareness. And on the other side, there needs to be an innovative push by existing brands, to prepare for the fact that in 20 years the shelves in the shops will look completely different, and the supermarkets of today will perhaps even become obsolete.
Scenarios
The global market is experiencing a transition. Major trading blocks are changing their attitudes towards free trade and protectionism. Global trade is growing in general, but the centers of gravity are shifting for both demand and supply. The Netherlands' role as a producer for the global market and as a hub in worldwide food logistics is a clear product of developments over the past decades. Transitions will inevitably affect this situation. Possible futures therefore need to take into account either an upscaling, with greater volume of trade and more production in the Netherland. Or smaller-scale production to provide for a self-sufficient country, which means losing lots of throughput and the possibility of satisfying our demand outside the national borders.
The second key uncertainty looks at the attitude of the consumer. Do they accept new technologies in our food production and processing? Or does the demand for 'authentic' food become even greater? For the time being, demand is growing steadily for both. The Dutch Weed Burger even unites both directions in a single product: at music festivals, this innovative product – made from roasted soya beans, seaweed and algae – is grilled by artisan chefs. But these developments are still vulnerable to damage to reputation, and food safety incidents can result in a huge, sudden changes.
If we plot the key uncertainties and previously-described observations and trends on the axes, we see different developments taking place in the four quadrants. All four are conceivable and relevant to elaborate. We have typified and developed these four scenarios as follows:
Organic Fantastic
Supersize Me
Silicon Valley
Homegrown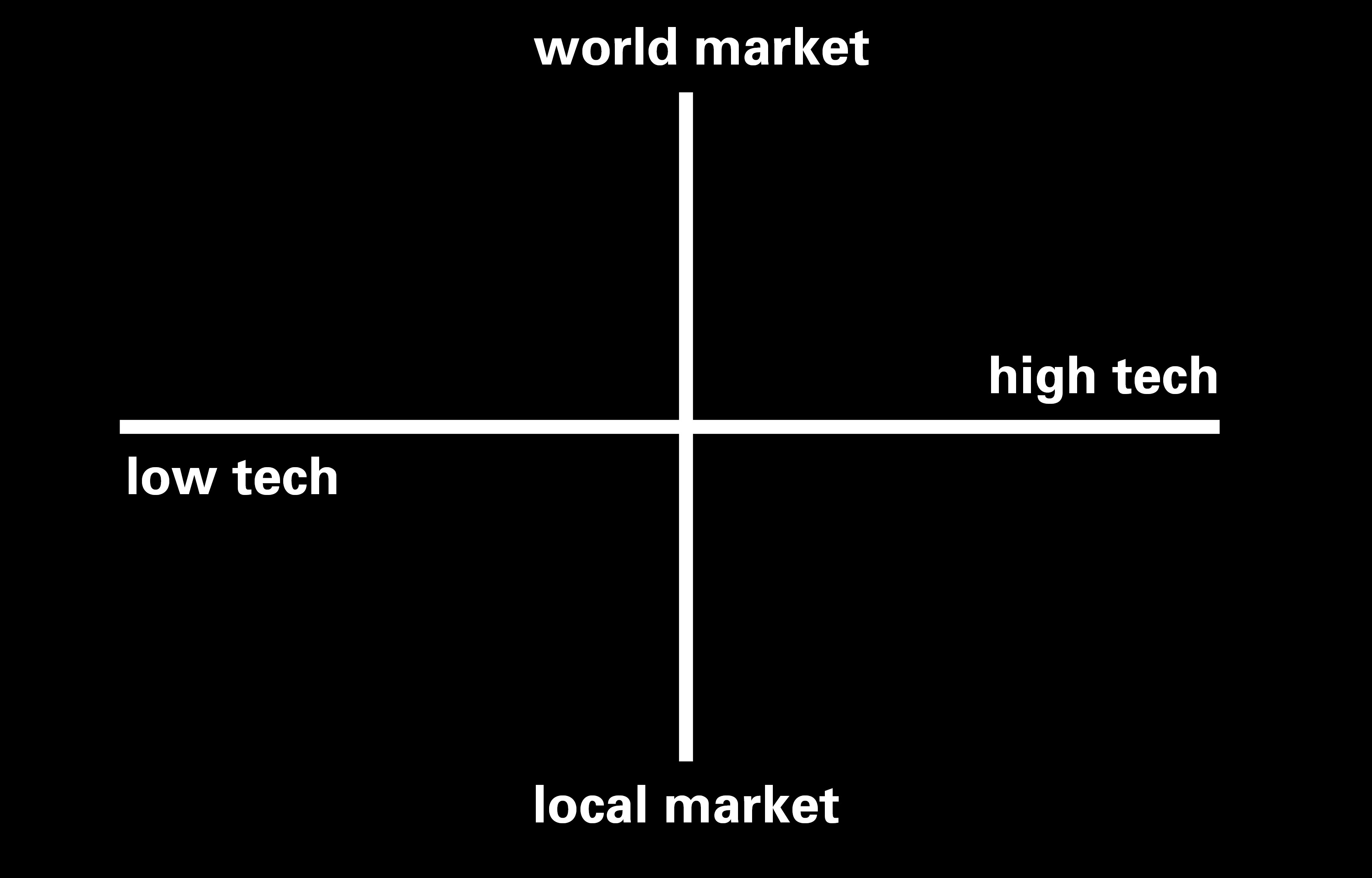 These scenarios all have different effects on the Dutch food landscape. To gain an insight into their consequences, we use a recognisable environment that could exist in many places in our country.
We find a city here with facilities like shops, schools and a station. On the periphery are the work locations: industrial estates and business parks with offices and, specifically for a food landscape, a number of greenhouses and large warehouses for storage and processing, with farms and meadows in the surrounding areas. Infrastructure connects the various functions with the rest of the region, country and world.
Organic Fantastic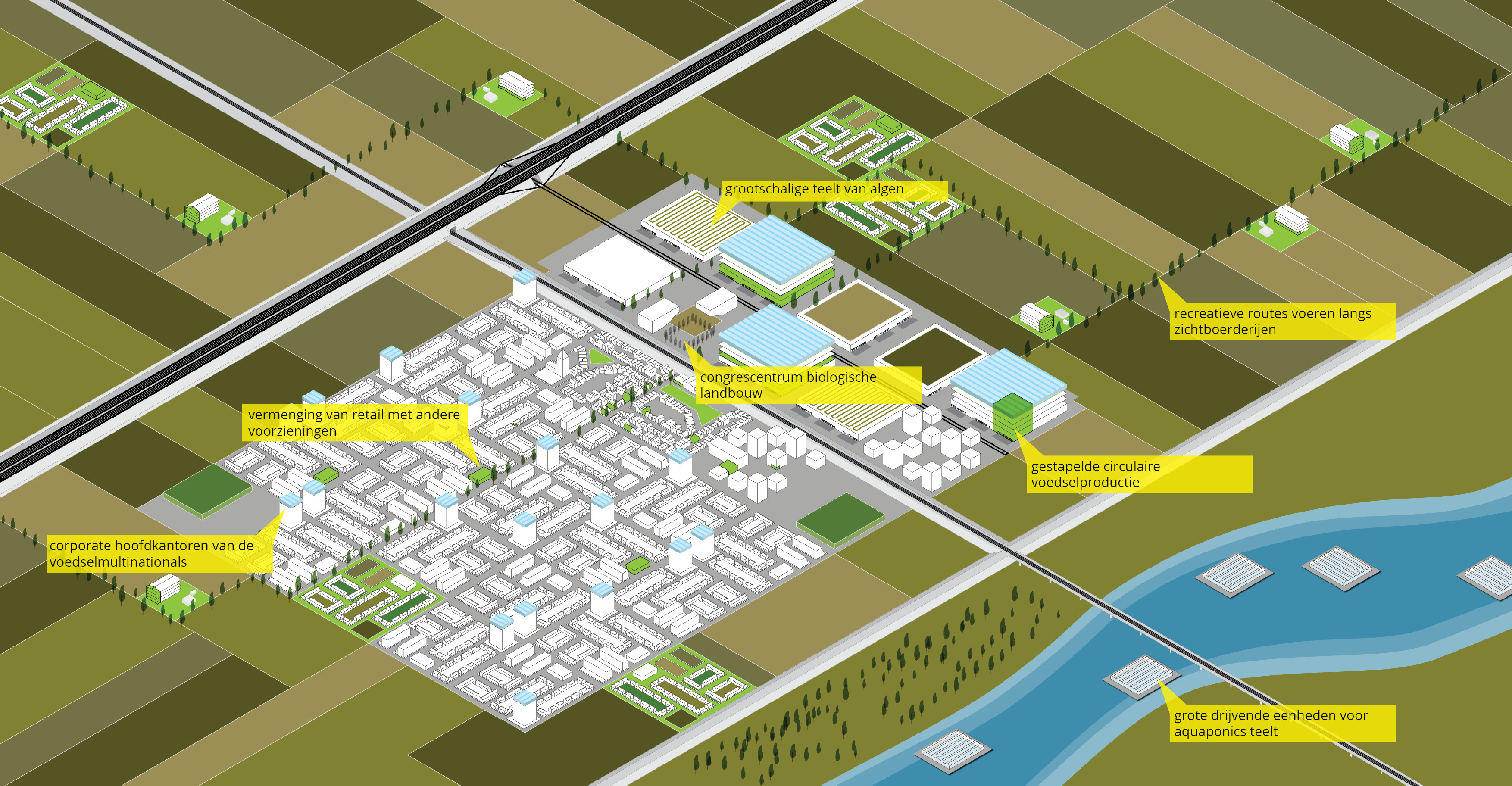 This scenario assumes a future in which the food consumer is suspicious of technological modification of food, and demands high-quality food for which the origin can always be traced. This development could have been caused by a number of food scandals worldwide: horse meat contamination in Europe, milk and infant formula fraud in China, etc.
The origin of the food isn't determinative, as long as it's transparent. The Netherlands' good reputation for food safety is paying off: both small and large businesses are focusing their marketing on the global market. Sales are growing enormously, since the emerging middle classes in China and India also demand organic food. Large food multinationals need to join the trend of 'accountable' food. Food chains are totally transparent and fair. The increasing demand does however put pressure on domestic production. Expertise centres in Wageningen and Boskoop are doing good business by developing and distributing old and new techniques. A revaluation of age-old techniques such as crop rotation, the use of ecological fertiliser and pesticides, and intensive sea farming / agriculture in the North Sea and Wadden Sea help the Netherlands retain its huge surplus on the trade balance sheet for agricultural products.
Large barns for livestock along cycle and walking routes are open for visitors, even unannounced. This development makes the agricultural landscape more accessible. The city also merges with rural areas, with commercial urban farming and neighbourhood allotments taking over entire streets, car parks and unused industrial sites. Producers know that the public is critical. Consumers want to know who's responsible for their daily meals. So companies use their production location to help sell their products, combining marketing with sales. Many of these products can also be ordered directly from the producer, at the expense of the one-size-fits-all formula used by many supermarkets.
Supersize Me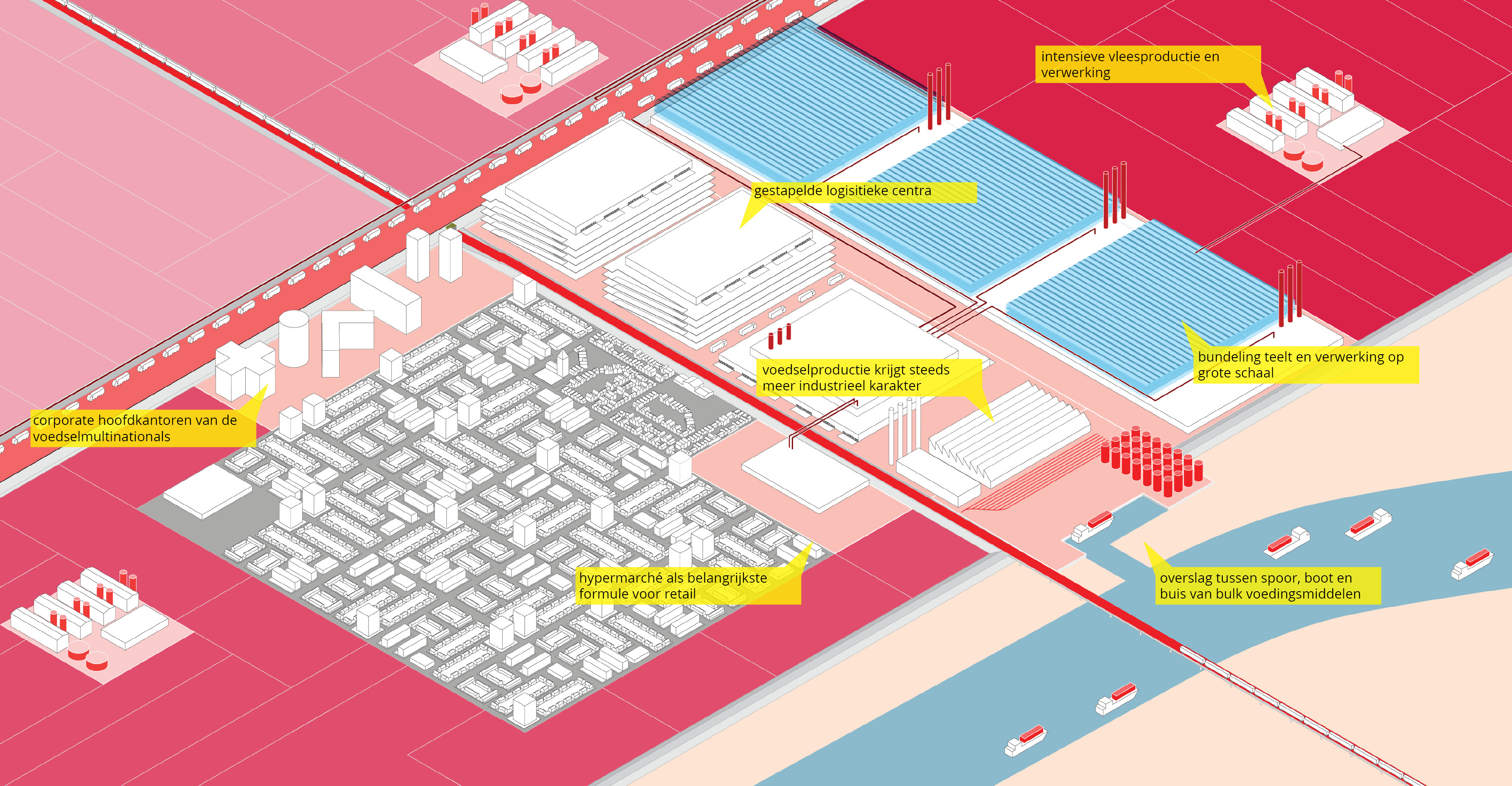 This scenario focuses fully on scaling-up existing food production. Struggling farmers have sold their businesses and land to international investment funds which are now running much larger, specialized farm holdings. The average dairy farm now has 2000 cows, 20 times more than in 2016. The requirements for pasture, nitrogen, phosphate and milk quotas have been loosened. These chemical resources are eagerly used by the circular economy since petroleum is no longer available. The transportation of chemicals causes much more road traffic than milk tankers. Additionally, pipelines for these substances connect rural areas with industrial complexes. The last bits of waste that really can't be used for anything else are used for generating energy by fermentation.
Food is traded on a global scale, and the Netherlands has an important role to play thanks to its location and available expertise. The logistics processes serve the whole world and earn our country lots of money. The transportation of bulk and raw materials have plummeted due to increasing costs of transportation. Processing our own commodities into high-value products increasingly takes place withinin the Netherlands. Processed products generate more profit and have a much higher value per volume. Because of the great importance of transport and increased fuel prices and carbon tax, chemical miles weigh heavier than food miles. Transportation by aeroplane is profitable for many foodstuffs. Trains full of baby food, cheese, confectionery and soft drinks travel along the New Silk Route, the railway link with China, to the new middle classes in Asia, every day. Storage and the processing industry are therefore concentrated around international gateways: airports, ports and container terminals on the railways.
Diversity in rural areas has completely disappeared: farming plots have merged and all focus on the same ten types of crops. The increase in acreage for greenhouse horticulture and use of genetic modification has raised revenues without needing any extra pesticides and fertiliser. This provides enough food to feed the world's 10 billion inhabitants. Our country's more prominent role as a hub means that every conceivable type of food is available all the time. Want a durian from Thailand or scorpion fillet from the Atacama Desert? Readily available from the hypermarket, where the choice is gigantic, although there are only five supermarket chains left in the whole of the Netherlands, one per purchasing organisation. Their power is strengthened by exclusive links with producers, who were previously part of the chains.
Silicon Valley
Technological development plays an important role in this scenario. A far-reaching policy for nature conservation, prevention of deforestation, etc. has reduced the amount of land available for cultivating food. High transport costs make it unfeasible to transport food all over the world. This cuts consumers in the Netherlands off from traditional food fiefdoms in other countries. Foodstuffs are only available if they're cultivated or made locally. To satisfy our omnifarious demand, production needs to be very varied with smaller-scale cultivation. aarom sterk gevarieerd, met kleinschaligere teelt.
Our love for gadgets transfers to our appetites. Particular, innovative and composite food types are popular. Sometimes these are so advanced and so expensive that they're only given as a gift on special occasions such as weddings, birthdays and anniversaries: event food, as in the example of Japanese square watermelons.
Innovation is used to arrive at fundamentally new types of production. Think for example of alternative raw materials with algae and insects as a source of protein, high-tech precision agriculture by drones and special artificial light. This makes us much less dependent on the supply of raw materials and products from abroad. The quality of the environment (soil, water, air, etc.) is also greatly improved. Production and processing are extensively robotised, which improves food safety and makes some products suitable as a replacement for common medicines.
In this scenario, the Netherlands is self-sufficient, just like many other areas. Everyone faces the shame challenges. Knowledge and expertise are shared extensively between the different areas. Many companies, which previously ran large-scale mass production, have applied their knowledge of processes into hard cash. The revenue from sales is perhaps greatly reduced, but producers from all over the world are investigating how they can optimise their own production. The black-box landscape is transformed into an advisory landscape: the place where showcase projects are exhibited.
Well-payed Dutch consultants travel all over the world to sell their advice. Marketers and storytellers travel with them, to offer a total package of story and product (under licence). Food Valley Wageningen, Meat Valley in Peel, Seed Valley in North Holland and Grass Valley in Friesland put Brainport Eindhoven in the shadow and compete with each other every year to see who scores the most patents.
Home Grown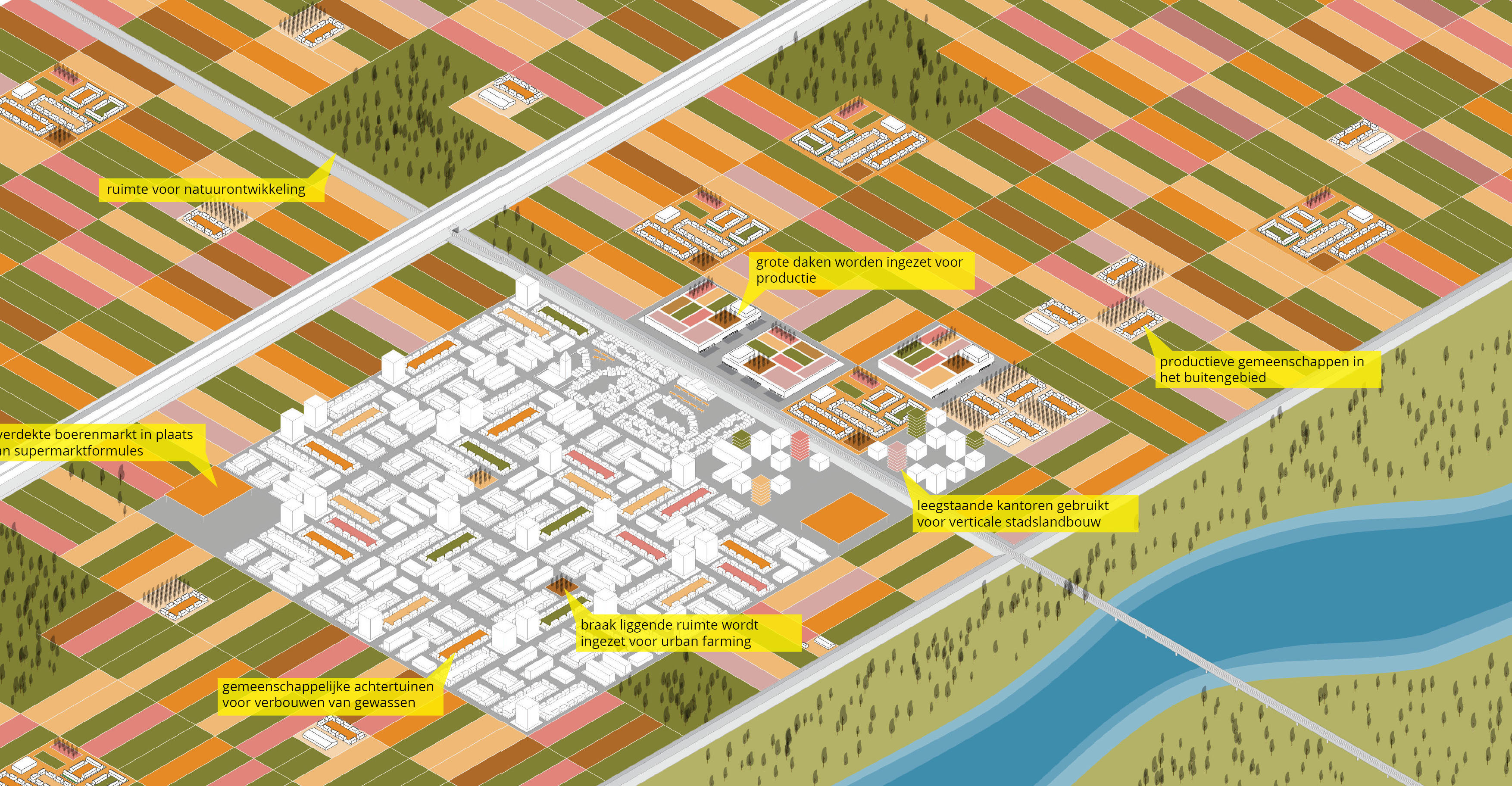 Trust plays an important role in this scenario. Anxiety about the unknown and strangers is greater than ever. This also applies for our relationship with food. The demand from abroad has almost fully collapsed because of protectionist measures and restrictive bilateral agreements. Dutch consumers also have little need for products from beyond the national borders. Where ignorance is bliss, 'tis folly to be wise. We prefer to focus on trusted products and retreat to our own circles. Autonomy and independence are important for arranging things ourselves. This results in a society built up from small but very close-knit communities with a strong inwards focus.
The basis for the food trade will be the local market where grower and buyer meet each weekly. Food miles are the most important yardstick for food logistics; not because of ideological persuasions, but through pure pragmatism. What you eat depends on the distance that the producer can travel to the market, or that you're prepared to cycle to pick products up. This makes logistics in the region more visible again. Areas with a diameter of around 30 kilometres provide a full diet of local products. Diversity in rural areas increases enormously to accommodate such a varied offering. We're forced to eat more seasonal foods. Fruit is mainly available in the summer and autumn. Sprouts prevail in the winter, when stew is always in the pot.
The ideal of strong, close-knit communities also involves a renewed appreciation for exchanging goods – bartering – to enhance good relationships. Local for local increases the value of labour, which is good for small-scale specialization within the community. There's a bakery in every village and every neighbourhood. Now that efficiency and low prices are no longer decisive factors, there's more room for developing natural environments. This ecological improvement pays off with a healthier country. There's no sense in having any bare, empty land. Communities settle on obsolete and abandoned farms to take care of production themselves. Everywhere has a vegetable garden with a soup kitchen next to it. The experience of eating together is priceless.
Magazine